We're Professionals
Creating the appropriate atmosphere and image with tropical plants is our specialty. Whether it is an office, mall, hotel, bank, restaurant or other building, were professionals at enhancing the appearance of commercial and business interiors with plants. We have an extensive inventory that is 100% organic meaning no chemicals and a safe environment for all.
We're Particular
Once your plantscape is complete, our "Interior Plantscape Program" ensures that your greenery is forever springtime fresh... maintained by a carefully, trained, uniformed team which provides quality care. Like clockwork, our team of professionals will arrive in your office equipped to water, prune, clean foliage, and organic the greenery in your design.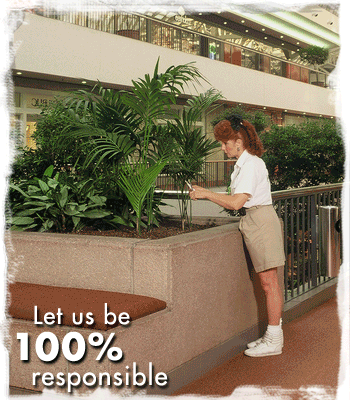 We're Unique
Tropical Greenery is unique in it's field in that it offers an unsurpassed guarantee. We guarantee 100% replacement of any plants not meeting the strictest requirements. We assume 100% responsibility for keeping your plants looking greenhouse fresh, and maintain a continual plant replacement program free of charge. ...it's just that simple, but the difference is distinctive
Seasonal Color Program
We offer an ongoing seasonal color program which can be integrated into your plantscape.
Event Rentals
One-day or short-term rentals...Get pricing and more info on event rental page..